Peanut Butter Kisses Cookies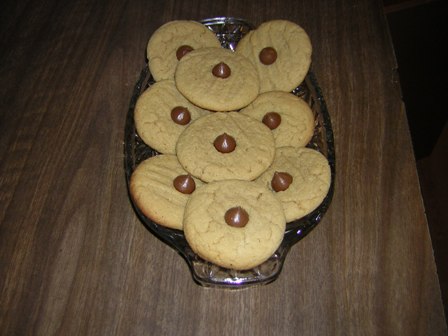 ½ cup butter
½ cup white sugar
½ cup brown sugar
½ cup peanut butter
1 egg
1 tsp. vanilla
1- ½ cup flour
¼ tsp. baking soda
1- ½ tsp. baking powder
Dash salt
Hershey mini kisses – for garnish
Step 1:
Cream together butter, white sugar and brown sugar. Add peanut butter and cream well. Add egg. Add vanilla. Make sure it is mixed well.
Step 2:
Mix together all dry ingredients in separate bowl.
Step 3:
Slow add dry ingredients to wet mixture.
Step 4:
Roll into small balls and place on cookie sheet – press lightly with fork.
Step 5:
Bake in pre-heated 350 degree oven for 8-10 minutes or until cooked.
Step 6:
Place a Hershey mini kiss in the centre of each cookie before removing from baking sheet. Cool on wire rack.
Yields about 30 cookies. Enjoy!
Note: Can omit mini kisses and serve as plain peanut butter cookies.