Frozen Partridgeberry Pistachio Dessert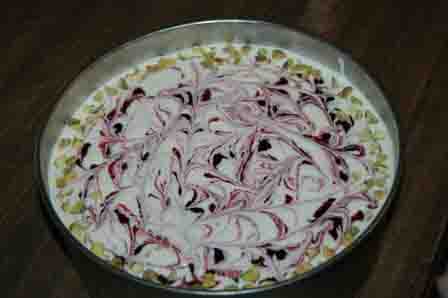 1-1/2 cups chocolate wafer crumbs
250g cream cheese (softened)
1/4 cup unsalted butter (softened)
3 eggs
1-1/2 cups partridgeberries
1/4 cup sugar
1/3 cup sugar
1 tbsp vanilla
1/3 cup water
1 large tub Cool Whip
1/2 cup chopped pistachio nuts
1/2 cup corn syrup
Step 1:
Combine wafer crumbs with butter and press into lightly greased 10" springfoam pan. Freeze for 1 hour.
Step 2:
In saucepan bring partridgeberries, corn syrup, 1/3 cup sugar, and water to simmer. Cover and cook for 8-10 minutes until softened. Puree until smooth. Chill for at least 30 minutes.
Step 3:
Combine cream cheese, eggs, 1/4 cup sugar, vanilla, and Cool Whip and mix well. Pour half of cream cheese mixture over prepared wafer base and return to freezer until firm (about 30 minutes). Keep remaining mixture in refrigerator until needed.
Step 4:
Spoon all but 1/4 cup partridgeberry puree over top of first lay of cream cheese mixture. Sprinkle with all but 1 tbsp of Pistachio nuts. Return to freezer until set.
Step 5:
Spread remainder of cream cheese mixture over top and again return to freezer.
Step 6:
When cream cheese mixture is nearly set, drizzle with remaining partridgeberry puree. Run tip of knife through puree to swirl colours. Sprinkle the remaining pistachio nuts around the edge.
Step 6:
Freeze for at least 6 hours. Cover with heavy foil and may be kept frozen for up to 2 weeks before serving.
Step 7:
Soften in refrigerator 30 minutes before serving.