Dog Biscuits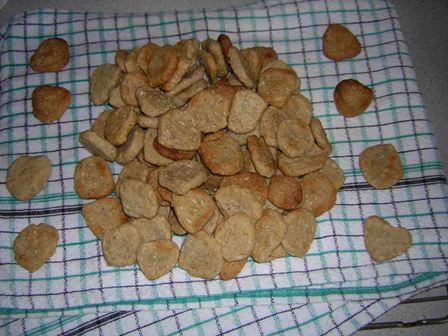 1– ½ tbsp. oil
1 cup warm water
1- ¾ cups flour
1- ¼ cup oatmeal
1/3 cup shredded cheese or ¼ cup peanut butter
Mix oil and water together.
Stir in remaining ingredients and mix well to form dough.
Half mixture – roll each ball into long tubes.
Wrap in wax paper and chill for 1 hour.
Slice into ¼" circles and bake for 50 minutes in a 300 degree oven on greased cookie sheet.
Turn cookies half way through baking to ensure browning on each side.
Cool on wire rack before serving to your favourite pooch.
Yields about 90-100 biscuits